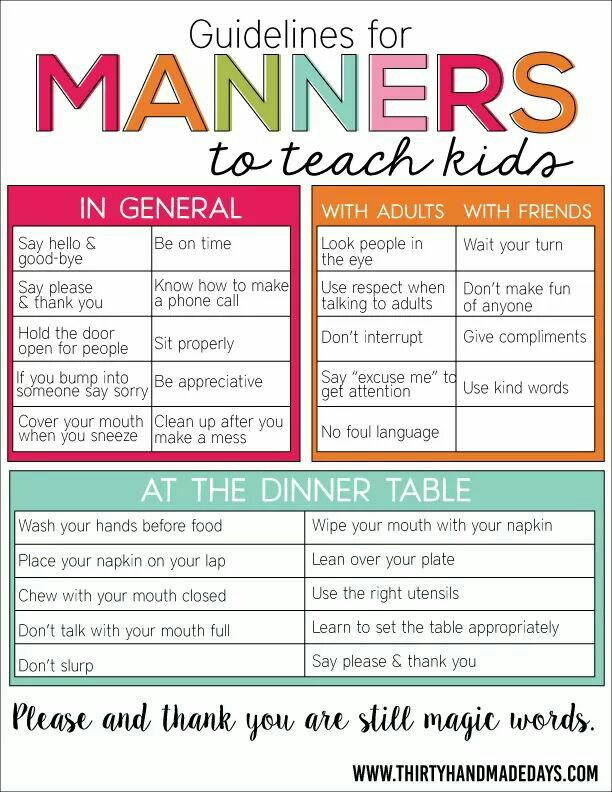 Good Manners Make Everyone Comfortable

By Margaret Webb-Pressler
Friday, February 11, 2011; 1:19 PM

Take your elbows off the table.
Don't talk with your mouth full.
Look people in the eye when you speak to them.
Write your thank-you notes.

You've probably heard all or most of those orders from your parents. And even though you do them, you might have wondered why grown-ups make such a fuss about good manners.

"I think manners are important, but I wouldn't like to be one of those high-society English people with their pinkie stuck out," said Isabel Uriagereka Herburger, 11, of Washington. "For myself at home, I could care less about manners, but at other people's homes I'm more careful."

Manners are about more than using the right fork or not slurping when you drink. Those rules of etiquette might be expected in certain situations, but not doing those things isn't going to hurt anyone's feelings. Good manners are a way to show others that you care about them. Manners also make it easier for everyone to feel comfortable in social situations.

Think of manners as traffic lights for life, said Pier Forni, a professor at Johns Hopkins University in Baltimore who has written books about manners. On the road, traffic lights turn a world full of cars moving in different directions into an orderly system that allows everyone to get where they are going.

"The rules of good manners are the traffic lights of human interaction," Forni said. "They make it so that we don't crash into one another in everyday behavior."

Even cavemen used manners!

Manners have developed over tens of thousands of years as a key element of human society, and they might even have helped the species survive.

Early humans lived in groups in order to hunt, share food and keep one another warm. But to live so close together, Forni said, humans had to learn to think about others, not just themselves. Think of it this way: If every person in the group looked out for only himself, the group would fall apart.

Our distant ancestors developed behaviors to show others respect, fairness and kindness. Those have evolved into today's manners. "You cannot have any kind of community if there are not some rules," Forni said.

http://www.washingtonpost.com/wp-dyn/content/article/2011/02/11/AR2011021103541.html (emphasis added)
My dearest Shosh and Jaialai:
I miss you.  I simply miss you, my sons.  I want the best for you and I want you to find happiness and achieve success in life.
With that, let's continue our discussion about what it takes to be successful.  Note that the first picture of success is devoid of ANY mention of collaboration, teamwork, and working with others around you.  That is wrong.
Unless you are amazingly and overwhelming brilliant — like Steve Job — you need to be able to get along with others and to work well with others in order to be successful.  In my two decades working with human resource professionals, I found that whether someone will fit in with the organization is a critical factor in their decision making process.
Think about it: if you hire someone who doesn't fit in with the organization, that person will eventually cause conflicts and tension, thereby destroying group cohesion, morale, motivation, etc.  As the saying goes, "One bad apple can ruin the barrel."  (Steve Job — and others like him — is the exception to this rule because his was so overwhelmingly brilliant that organizations needed him and had to make exceptions for him.  But, recall, even he was kicked out of Apple, the company he founded, and had to work his way back in.)
This is where yesterday's discussion about listening and being present comes in.  When I was taking graduate classes in counseling psychology, they said if we practiced the listening skills taught in that class, we will find that people will love talking to us.  That proved true.  I once met a gal from Georgetown Law School, and we spent 10 minutes talking before she had to run off for class.  I revealed little about myself during the conversation, and spent most of the time listening to her and reflecting back what she said.  At the close of that conversation, she insisted that we meet again and said that was one of the best conversations she's had.
We connect with others when we give them the gift of our time and our attention.  Relationships are built on that.
On the flip side, think of all the occasions when we don't listen to others or they us.  How did you feel about those interactions?  Were you frustrated?
I don't have to look afar for examples.  My siblings, your aunts and uncles, may be well-educated and accomplished, but, if memory serves me correctly, they sucked at listening to others in the family.  They always thought they knew more, and was always more interested talking and showing off their "knowledge" than listening and gathering knowledge to build their up repertoire.  (They have doctorates and master's degrees, but we each have our own expertise, and, having an M.D. or a Ph.D. in one field does not make you an expert in ALL things in life.  Your uncle, the M.D., thought he knew enough to hire a divorce lawyer without consulting me, a lawyer, and ended up hiring a guy who wrote a book on computer law to be his divorce lawyer.   As you can imagine, that ended badly and left a bad distaste for all lawyers.  But, the fault lies with him for not bothering to listen to others with more expertise in that field.)
While listening is necessary, it is not a sufficient condition for success.  For example, no matter how well someone is listening to you, would you want to continue spending time with that person if he burped and farted as he talked to you? if he continually picked at his teeth and his feet during the conversation? if he engaged in otherwise rude and ill-bred manners?  No!
Manners put others at ease and enable them to enjoy themselves.  In order to be successful, you must be able to get along with others and collaborate with them; to do that, you must first put them at ease and enable them to want to work with you (because they found the experience enjoyable, in addition to being necessary — we'll get to the latter part later).
Many people fail because they think being smart, having good grades, being at the top of their class, etc., is enough to get them invited to colleges, to join companies, etc.  They are wrong.  Those may be necessary conditions, but they are rarely sufficient conditions.  Given a choice, people choose to follow  and work with people they like, not those they find distasteful.
So, remember, be kinder than necessary, have good manners, and listen.
All my love, always,
Dad
10 Traits of Likeable People

Imagine walking into work and you're greeted with smiles and enthusiastic hellos from all of your co-workers; while you make your way through the building you feel like a rock-star. You shake everyone's hand, get pats on the back, and you being there leaves the entire place feeling more uplifted. You're friends with everyone and your boss loves you.

This is a an every day occurrence, if you're a likeable person. If this seems like something that could never possibly happen to you then I'd like to remind you that social skills, like any skills, are completely learn-able; and with a little practice you too could be the talk of the office, and be going home with a thriving social life.

Here are several traits that likeable people share. If you cultivate them, you'll join the ranks of those who spend their weekends with friends, their evenings at dinner parties, and their days surrounded by coworkers that love and respect them.

1. They Aren't Insecure

Likeable people don't come from a place of insecurity. They go into every interaction thinking "I bet me and this other person would get along great, I should really get to know them better." And then the likeable person moves on from there. Start from a positive place and others will notice. If you're not there yet, faking your confidence will help put your insecurities at ease.

2. They're Genuine

Likeable people never try to be something they aren't. If you don't know something, admit it. If you don't agree with a statement someone else has made, don't grin and bare it. Instead, honestly admit that you don't see it the same way as the other person. Don't put them down. Simply try to see where they're coming from, and strive to understand their point of view.

3. They Don't Judge

When you are judgmental, people can sense it. Even if you smile and hide your negative feelings, the people around you can sense that you have just formed a poor opinion of them. Rather than seeing others as good or bad, try to understand that everyone is entitled to their own opinions, choices, and mistakes. Likeable people make this their philosophy and, as long as no one is getting hurt, they never pass judgment on the value or morality of another person.

4. They're Positive

Negativity abounds in our world. We have negativity in the news, on our homepages, and it appears on the Facebook and twitter feeds of our friends. Even a lot of the novels I read end up with negative endings! Be a positive voice in a world where everyone sounds a little like Eeyore. Being positive will make you a pleasure to talk to and more people will want to talk to you.

5. They Don't Compete

Conversations aren't competitions. Likeable people never story-top or one-up in a conversation. Instead, they view conversations as an opportunity to connect and create deep relationships with others. If you want to be more likeable, enter every conversation with the goal to make the other person feel liked and respected. This will change the tone of the interactions you have, and make everyone involved more likely to enjoy it.

6. They Provide Value

When you're in a conversation with someone and they complain that they don't know what to get their mom for Christmas, do you lament how awful that must be before going into a story of your own? Or do you recognize that they have a problem they may need help solving? People everywhere have problems they wouldn't mind help solving. But as people, we tend to be self-involved and not notice. If you take notice and help people solve their problems, you'll create friends for life.

7. They Don't Settle for Small Talk

Small talk doesn't develop long lasting friendships, and small talk won't make you likeable person. Likeable people avoid small talk by transforming it into deep conversation. They do this by being genuinely interested in others, asking honest questions to help further their understanding, and relating to what they're told, briefly, before gathering more from the person they're talking to. Don't settle for small talk–do everything in your power to move the conversation forward to more personal subjects.

8. They Touch People

Patting shoulders, shaking hands, and (in some cases) hugging other people makes people more comfortable around you. Touching eliminates the physical barrier of distance, and so it eliminates the emotional barrier that the distance represents. Touch is an art, and the first few times that you attempt it it may seem awkward, but practice makes perfect and the art of touch is important if you want to become more likeable.

9. They Don't Shy Away

Likeable people have tons of friends! This isn't magic–it's because they intentionally befriend tons of people. They meet people; they get those peoples' contact information; they befriend those people and spend time with them; and then they go meet more people, never losing touch with anyone they've gotten to know. You can't be more likeable and not meet new people. You have to get out of your comfort zone and build lots of relationships if you want to become more likeable.

10. They Genuinely Like People

I know what you're thinking: But people suck! It's true, everyone has moments when they act rudely and everyone can be annoying from time to time. But deep down, most people are really nice. They care about others, and unless they're having a bad day, they're easy to get along with. Likeable people know this, and so they like people. They want to get to know other people, and they enter every interaction expecting a positive experience. If you only remember one tip from this article, it should be to develop the attitude of liking people. If you do that you'll become more likeable in no time.

Likeable people were all less likeable at one point in time. They simply decided to work at becoming more engaged, more respectful, and more likeable. Now they seem to work magic and develop friendships wherever they go. You can seem like that too! You simply have to develop the habits I've outlined above and you'll have the social life, the career, and the life that being more likeable brings you.

What about you? When was the last time you interacted with a truly likeable person? What did they say or do that made you instantly take interest in them? Let us know in the comments.

http://www.lifehack.org/articles/communication/10-traits-likeable-people.html

The Top 10 Skills You Need to Be Successful

These abilities are key for your career in any company or industry.

Success comes from the mastery of a core set of skills that can be applied to any position, field or company. When you practice and strengthen these skills in your work, you'll rise to the top. Read on to discover the crucial talents you need to launch your career:

1. Sales skills. Sales is the basis of all business success. You are always selling, even if your role does not include sales in the job description. You sell during marketing activities, team meetings, customer service, product management, conferences, business development, engineering, user experience and more. A solid foundation in how to sell can give you a wide advantage over your colleagues and competitors.

No sales experience? No worries! If you've worked in retail or fundraising, or convinced a neighbor to let you babysit, you already have the sales foundation you need. For a great primer on how to use sales to your advantage, check out "To Sell is Human," by bestselling author Daniel H. Pink.

2. Transferable skills. Transferable skills give you the ability to see your past experience in a new light. That experience can be as varied as volunteer work, to a full-time job, to your weekend hobby to a waitressing gig. During each experience, you acquired skills that can be applied to your career success.

For example, as a waitress, you likely learned critical people skills, such as crisis communication, customer service and teamwork. That interpersonal expertise can be applied to your next job in public relations, and indeed, should be highlighted in your cover letter and résumé when applying for the job.

3. The ability to ask. The ability to ask is the easiest, most underutilized skill to catapult your career. The old adage is true: "If you don't ask, you don't receive." Many careerists don't ask to pitch their idea, for a raise or promotion, a bigger sales deal or to take on more responsibility. When this happens – or doesn't happen, rather – you're far less likely to find challenge, meaning and reward in your work.

If the thought of asking makes you break out in hives, try practicing in non-work related contexts. At the farmer's market, you could ask a vendor for a lower price on the asparagus; at home, you could ask your partner to attend dance lessons; on the street, you could ask a stranger, "how are you?" The more you put yourself in uncomfortable situations, the more likely you'll decide they're not that uncomfortable after all.

4. The ability to code. You don't need to know how to build the next Facebook, but a basic understanding of how the Web works and how software and apps are built can be a game-changing advantage. An increasing number of positions require technical knowledge, but even if your job never requires you to be technical, you should know what's happening under the hood. The knowledge will help you interface with development and engineering teams, as well as hold more realistic expectations.

Try doing small side projects to familiarize yourself with programming concepts, like building a blog. Or choose one of the many free online classes out there, like Codecademy.

5. Communication skills. Both written and oral communication skills are basic, but that doesn't mean they're not difficult to master! Think about ways to challenge yourself and tweak how you write an email or behave in a meeting.

For example, don't hit "send" immediately after composing a note. Instead, give yourself a beat or two, then reread the email, make edits and then hit "send." Or during your next team meeting, resist talking about your idea or opinion right off the bat. Instead, count to five, and if you still feel like you have something relevant to contribute, speak up. On the flip side, if you're shy, challenge yourself to say what you're thinking, instead of remaining silent.

 6. Interpersonal skills.

The ability to

be a team player

is so fundamental to your work that there are few better things to focus on. Interpersonal skills are just a fancy way of saying how you get along, relate and communicate with others. Employers hire people with domain expertise, of course, but mostly they hire people they like and can get along with.

Think about how to become more likable. You might try mimicking the body language of the people you're talking with, repeating their ideas and opinions back to them and really listening. But keep in mind that all the tips and tricks in the world won't help if you don't have genuine interest in and empathy for your fellow team member.

7. Project management skills. Can you see the big picture and break it down into small, manageable and action-oriented steps? Then you have undeniable value. Many employees consider themselves "idea people" but don't have the ability to execute on those ideas. If you have the ability to prioritize and get things done, you'll be able to lead a team in no time.

If you find project management difficult, try taking a project that's already complete and work backward. What are the tasks and assignments it took to complete that goal? Write them down in detail to get a better picture of a the project road map.

8. The ability to be a self-starter. Do you have an entrepreneurial drive? Apply it to the workplace. Employers increasingly value folks who can take initiative and own a project from start to finish. As a creative self-starter, you should take calculated risks, brainstorm new ideas and execute with precision.

If you're not sure of what problems you should help solve, start by looking for the roadblocks your co-workers repeatedly run into or issues your customers continually face. Still stuck? Simply ask your boss for a side project to work on when your normal responsibilities are complete.

9. The ability to be curious. To really stand out in a company, you should always be looking to improve, both individually and company-wide. Hone your inquisitive thinking skills by asking questions like "why?" and "how?" to your employers, your customers and yourself. Everyone will appreciate your interest and thirst for knowledge.

While it may be difficult to open up initially and admit you don't know it all, curiosity helps strengthen self-confidence. As a result, you will learn new ideas and job skills that will stay with you throughout your career.

10. The ability to drive results. Through it all, you should know what your goals are and how you are going to achieve them. This skill requires you to synthesize many of your other skills and layer on an intense passion and focus. Results-driven individuals are metrics-oriented and can quantify outcomes to motivate themselves and their teams, all while contributing to the bottom line.

Write out your personal and career goals to keep your eye on the prize, and try forming a partnership with a friend to hold you accountable, help you stay driven and keep you on track.

As you cultivate and master these core 10 skills, you'll create the career you want – for now and for the future.
Why Leaders Need to Be Likeable Rather Than Dominating

Why people prefer to work with likeable leaders

The predominant stereotype we have of leaders, particularly business leaders, is that they are male (usually white), tall, assertive—even aggressive—and driven to produce bottom-line, short-term results. This stereotype still persists, one that is eagerly perpetuated by the media and movies, despite the decades of research on leadership and the promotion of transformational, servant-style and values-based leadership. The focus on leaders who have advanced emotional intelligence and social skills rarely gets the attention of management gurus or researchers.

For example, Joey Cheng and his colleagues at The University of British Columbia published a study in the Journal of Personality and Social Psychology which found when groups were given the task of choosing a leader, they identified people who had the appearance of both skills and competency as well as the ability to impose their ideas on others in a dominating manner. They concluded that their findings show why more aggressive leaders continue to populate both business and politics. It appears from this study that the stereotype of a leader as an aggressive, dominant male is still widely embraced by people as desirable as opposed to what might be identified as more female characteristics of compassion, warmth and interpersonal skills.

We have come so far in stereotyping leadership characteristics, including imbedding them into recruitment practices, that leadership style is now becoming increasingly extreme, as witnessed by the increase of psychopaths in the boardroom., or the kind of amoral behavior portrayed in the true-to-life movie, The Wolf of Wall Street.

Yet there is a contrasting view, one being talked about more and more, that advances the notion that social skills are critical for leadership success.

Tiziana Cascario and Miguel Suusa Lobo, in an article in Harvard Business School's Working Knowledge entitled "Fool vs. Jerk: Whom Would You Hire?", argue when given a choice of whom to work with, people will pick one person over another, according to 2 criteria; one is competence on the job and the other is likeability. The authors conducted their study of organizations of varying size and industries in North America and Europe. Their research showed that no matter what kind of organization they studied, everyone wanted to work with the "loveable star" and nobody wanted to work with an incompetent jerk. The researchers also concluded that personal feelings played a much more important role than is commonly acknowledged. They also found that if a person was strongly disliked, it was irrelevant how competent he or she was, they would prefer not to work with that person.

Roger Covin, writing in the Huffington Post, contends that most people are not aware of the traits or qualities that are appealing to others. He argues, based on his research, the most likeable qualities are sincerity, honesty, and the capacity for understanding, loyalty and trustworthiness. Intelligence and a sense of humor is also important, whereas being popular is much further down on the list. He cites other research, which identifies warmth, kindness, openness, expressiveness, as important determinants of likeability.

Rohit Bhargava, author of Likeonomics: The Unexpected Truth behind Earning Trust, Influencing Behavior and Inspiring Action, says there is a real "ROI to likeability." He makes a distinction between "nice" people and "likeable people," referring to the latter's capacity for honesty, whereas the former may avoid being candid for fear of not being liked or hurting others' feelings. He also identifies unselfishness as a key likeability characteristic.

Jeff Hayden, writing in Inc.com, described how likeable leaders don't try to impress people with the typical power poses—standing tall and square, taking big strides, firm handshakes, a deeper voice. He argues that this kind of posturing may be designed to impress people but it is very self-focused. In contrast, using the example of a meeting between Bill Clinton and Nelson Mandela, their body language was more relaxed including movement forward with a slight bow and a smile.  Hayden describes other characteristics of likeability—the use of light physical touch; focusing the conversation on the other person; humility; disclosure of vulnerable parts of self including mistakes; and making no requests of the other person but offering to help the other person instead.

The individuals cited above identify themes reflected in a two books, one by Dave Kerpen, author of Likeable Leadership, and the other by Tim Sanders, entitled The Likeabilty Factor: How to Boost Your L-Factor and Achieve Your Life's Dreams.

Matthew Lieberman, writing in the Harvard Business Review blogs asks the question, "Should Leaders Focus on Results Or On People?" He cites the work of Jack Zenger who examined characteristics of great leaders. Two of those characteristics were a results focus and social skills. He found that if the leader was seen as very strong on results focus, the chance of that leader being seen as a great leader was only 14%, whereas if a leader was strong on social skills—such as empathy—the leader was seen as a great leader only 12% of the time. However, if the leader was seen as being strong equally on both results and social skills, the likelihood of being seen as a great leader rose to 72%. Lieberman contends "strong social skills can leverage the analytical abilities far more efficiently." Yet studies show that few leaders are perceived as having both strengths.

In his book, Social: Why Our Brains Are Wired To Connect, Lieberman argues our brains have made it difficult to be both socially and analytically focused at the same  time.   He says evolution built our brains with different networks for handling these two ways of thinking.  In the frontal lobe, regions on the outer surface, closer to the skull, are responsible for analytical thinking and are highly related to IQ.  In contrast, regions in the middle of the brain, where the two hemispheres touch, support social thinking. These regions allow us to piece together a person's thoughts, feelings, and goals based on what we see from their actions, words, and context. Lieberman describes how "these two networks function like a neural seesaw. In countless neuroimaging studies, the more one of these networks was active, the more the other one became quieter.  Although there are some exceptions, in general, engaging in one of the kinds of thinking makes it harder to engage in the other kind.  It's safe to say that in business, analytical thinking has historically been the coin of the realm—making it harder to recognize the social issues that significantly affect productivity and profits.  Moreover, employees are much more likely to be promoted to leadership positions because of their technical prowess.  We are thus promoting people who may lack the social skills to make the most of their teams and not giving them the training they need to thrive once promoted."

Conventional wisdom has told us that "nice guys finish last," as might nice organizations. Dachel Keltner, a University of California psychologist and author of Born to be Good: The Science of a Meaningful Life, and a number of his fellow colleagues are building the case that humans are the successful dominant species because of our compassionate, kind, altruistic and nurturing traits. One of these studies has shown that many people are genetically predisposed to be empathetic. New research by Jon Bohlmann and Rob Handfield of North Carolina State University, Tianjao Qiu of California State university, William Qualls and Deborah Rupp of the University Illinois published in The Journal of Product InnovationManagement, shows that project managers got much better performance from their team when they treated team members with honesty, kindness and respect. Bohlmann explains "if you think you're being treated well, you are going to work well with others on your team."

Our excessive focus on bottom-line results at any cost, driven by aggressive men who see social skills as a means to an end, has been a contributing factor to many of our current economic and social problems. Expanding our concept of leadership to require that leaders possess greater social skills and practice them in organizations that embrace trust, honesty, compassion, generosity, empathy, kindness and genuine concern for the welfare of others would be welcome change.

https://www.psychologytoday.com/blog/wired-success/201401/why-leaders-need-be-likeable-rather-dominating