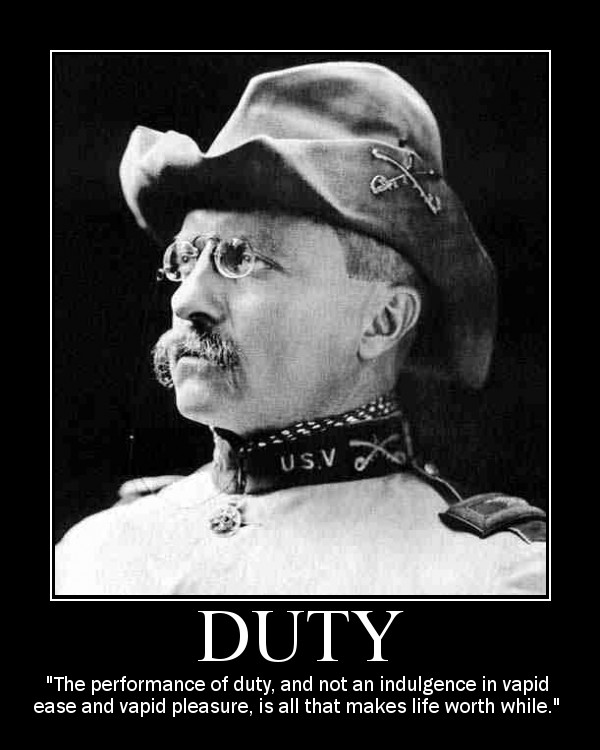 The Man in the Arena by Theodore Roosevelt

TR's life shows us that hard work, tenacity, and a desire to do the right thing can get you far in life. In the most memorable section of his "Citizenship in a Republic" speech, Roosevelt captured his life philosophy in just a few sentences. "The Man in the Arena" tells us that the man we should praise is the man who's out there fighting the big battles, even if those battles end in defeat. In our day, when cynicism and aloof detachment are considered hip and cool, TR reminds us that glory and honor come to those "who spend themselves in a worthy cause."

"It is not the critic who counts; not the man who points out how the strong man stumbles, or where the doer of deeds could have done them better. The credit belongs to the man who is actually in the arena, whose face is marred by dust and sweat and blood; who strives valiantly; who errs, who comes short again and again, because there is no effort without error and shortcoming; but who does actually strive to do the deeds; who knows great enthusiasms, the great devotions; who spends himself in a worthy cause; who at the best knows in the end the triumph of high achievement, and who at the worst, if he fails, at least fails while daring greatly, so that his place shall never be with those cold and timid souls who neither know victory nor defeat."

https://www.artofmanliness.com/articles/manvotional-the-man-in-the-arena-by-theodore-roosevelt/ (emphasis added)
My dearest dearest Shosh and Jaialai:
I apologize for the absence.  The days have been challenging.
When the going gets tough, I seek comfort in the words of T.R. Roosevelt's "Man in the Arena" speech.  It is far better to have tried and failed (even failed greatly) than to have never tried at all.  People can bitch and moan all they want, but unless they are willing to pitch in and help bring about improvement, they are just wasted breath.
Unfortunately, too many these days are but useless talking heads.  I shall never forget a Superbowl ad I saw years ago:  two consultants were pitching an action plan to a company executive who replied, "Great!  I want you guys to execute that plan."  The two consultants then laughed and said something to the effect of, "We are consultants.  We come up with the ideas, but we don't know how to do it."
Consultants these days are a dime a dozen — many are fresh out of college.  Without substantive knowledge and experience, on what are they basing their critical thinking and analytical skills?
Can critical thinking actually be taught?  Decades of cognitive research point to a disappointing answer: not really.  People who have sought to teach critical thinking have assumed that it is a skill, like riding a bicycle, and that, like other skills, once you learn it, you can apply it in any situation.  Research from cognitive science shows that thinking is not that sort of skill.  The processes of thinking are intertwined with the content of thought (that is, domain knowledge).

….

Thought processes are intertwined with what is being thought about.

Willingham, Daniel T., "Critical Thinking: Why Is It So Hard to Teach?" American Educator (Summer 2007), 8-10.
Thus, the lesson of the day is two-fold: gain substantive knowledge, and use it.
Be good, my sons.  Live well.  Be happy.
All my love, always,
Dad
P.S., I leave you with two additional thoughts.