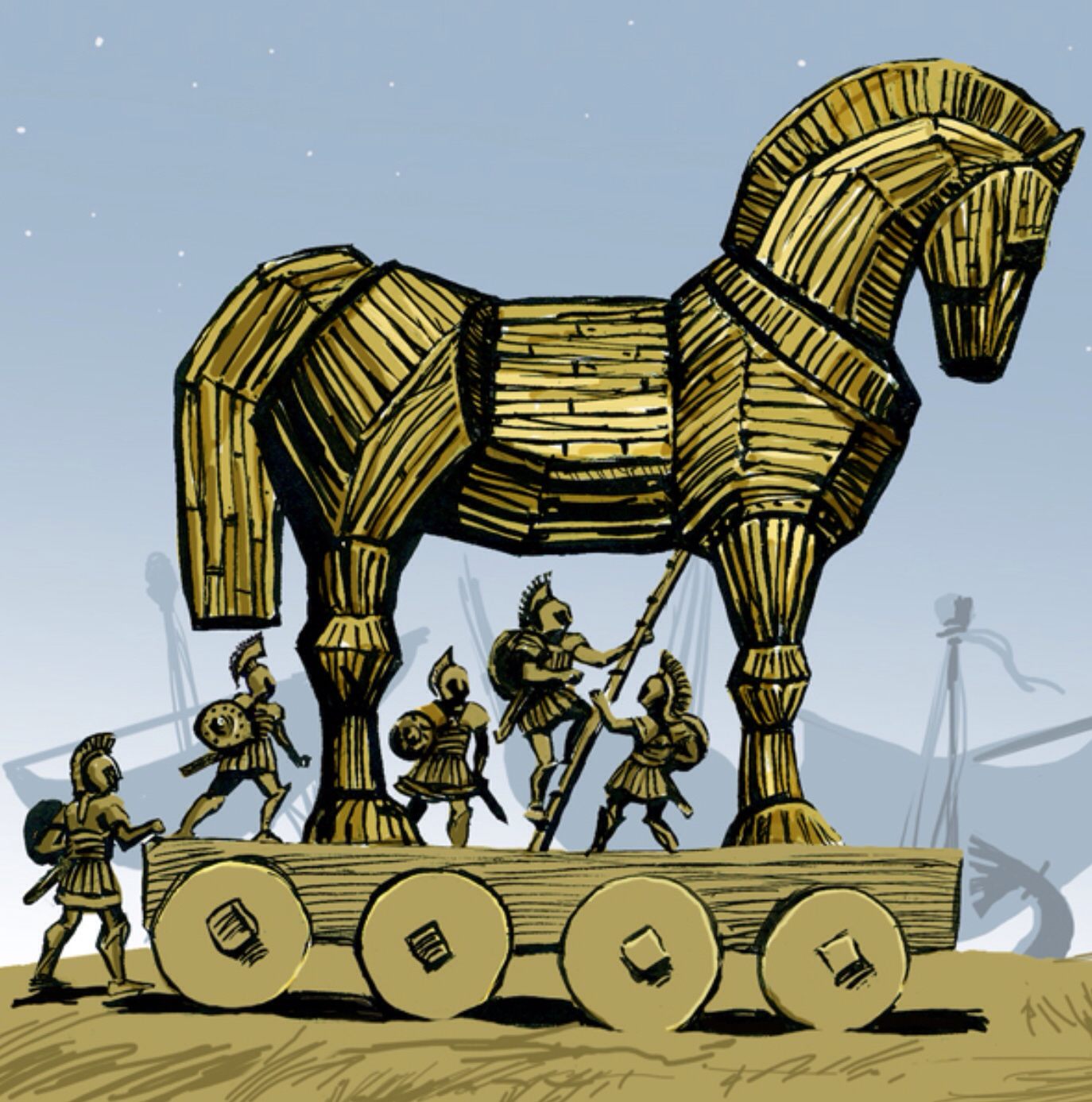 The adage "Beware of Greeks bearing gifts is heard often, and is normally used to refer to an act of charity that masks a hidden destructive or hostile agenda.  But it's not widely known that the phrase originates with a story from Greek mythology–specifically the story of the Trojan War, in which the Greeks, led by Agamemnon, sought to rescue Helen, who had been taken to Troy after falling in love with Paris.

This tale forms the core of Homer's famous epic poem, The Illiad. 

https://www.thoughtco.com/beware-of-greeks-bearing-gifts-origin-121368.
My dearest Shosh and Jaialai:
Always, beware of Greeks bearing gifts.  Humans act of out self-interest.  It is what drives most people.  The truly selfless are the rare exception — extremely rare exception; thus, it behooves you to ask yourself in almost all instances, "Why is this person doing this?"  You may not like the truth your inquiry reveals, but it is better to stare the ugly truth in the face than to accept a lie and be stabbed in the back by the dishonest and dishonorable.
We have recently endured such betrayal of false friends.  They came to us without our asking and made much noise about wanting to help us to grow our business and take it to the next level.  Yet, curiously, during the month-long discussion about the potential business partnership, they NEVER ONCE asked what our business needed in order to expand to the next level.  It was all about how much money we could lend them, whether we could introduce them to our contacts, whether we could refer business to them, etc.  Once this observation was pointed out to them, they left in anger and bad-mouthed us to others.  Beware Greek bearing gifts.
Ralph Waldo Emerson has once said success is, among other things, to have earned the appreciation of honest critics and endure the betrayal of false friends.  Why did he say this?  Because you cannot success unless you extend yourself to others and to the world.
Despite the real threat of betrayal by false friends, befriend people anyway.  What choice have you?  Can you truly be happy living in isolation, without a single friend to share your joys and troubles?  What a sad existence that would be!!!  Unfortunately, that is the reality for many of us today.  Studies seem to indicate that our social circles are shrinking and that a growing percentage of us have no close friends with whom we could share our joys and sorrows.  See, e.g., https://www.livescience.com/846-americans-lose-touch-report-close-friends.html; https://www.livescience.com/16879-close-friends-decrease-today.html; https://www.nbcnews.com/health/health-news/you-gotta-have-friends-most-have-just-2-true-pals-f1C6436540; and, https://www.psychologytoday.com/intl/blog/the-friendship-doctor/201105/why-would-someone-have-no-friends.
So, extend yourselves, but beware Greeks bearing gifts.
All my love, always,
Dad